Tinting equipment for distribution centers
Dromont Prima ET is an innovative solution that includes both bases and colorants dispensing into empty cans. This incorporates a complete handling process that includes an automatic conveyor line, dispensing, and – on request – a lidding, robotic mixing and palletizing of the finished products.
Differently from other tinting machines, base paints are not stored inside the machine but in external tanks. They are therefore externally pumped into an empty can and metered by an electronic scale.
Simultaneous dispensing of colorants and sequential weight dispensing of the external base components allow industrial scale productivity into empty pails. Repeatability and accuracy are granting the highest color fidelity and reproducibility.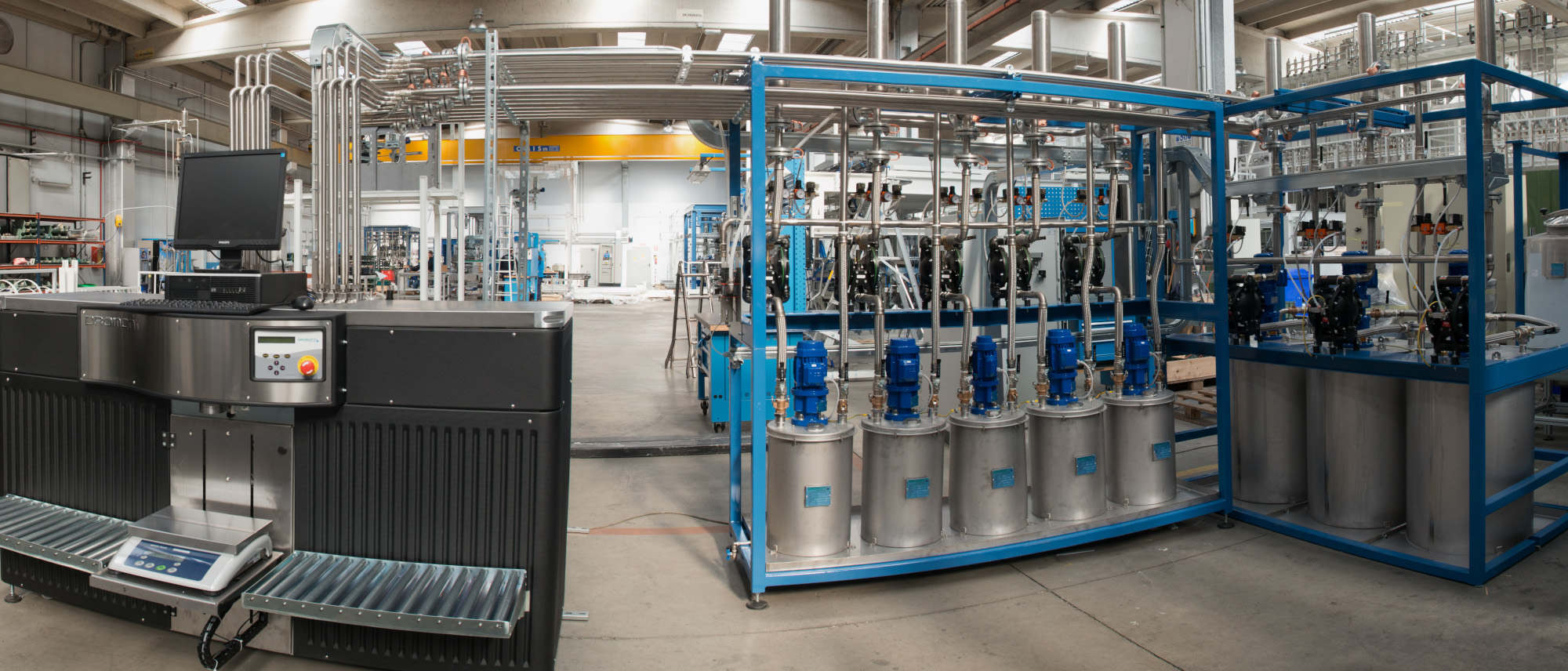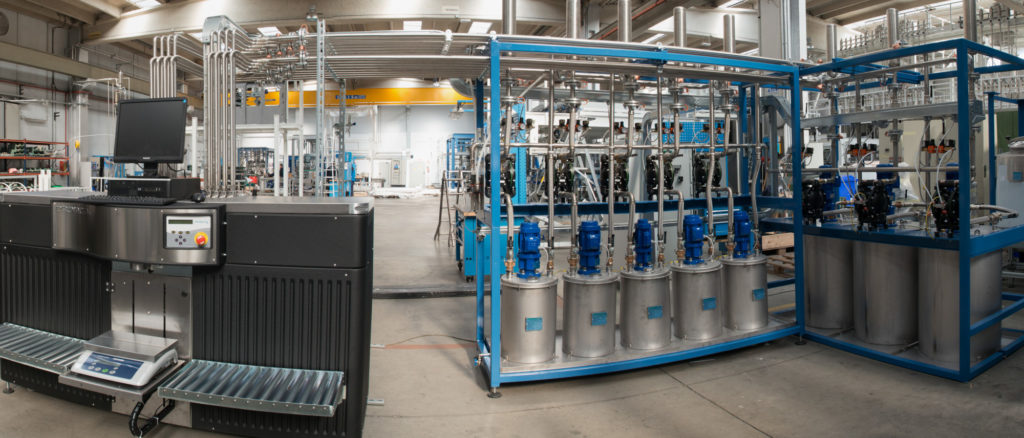 PRIMA MODEL
CANISTER
LENGHT
[mm]
WIDTH
[mm]
HEIGHT
[mm]
CAPACITY
[lt]
Prima ET 12
12
1000
790
1200
9x6 lt and 3x10 lt
Prima ET 16
16
1180
790
1200
12x6 lt and 4x10 lt
Prima ET 18
18
1670
790
1200
6x6 lt and 6x10 lt and 6x15
Prima ET 24
24
1670
790
1200
18x6 lt and 6x10 lt
Prima ET 32
32
1970
790
1200
24x6 lt and 8x10 lt
PRIMA MODEL
CANISTER
LENGHT
[mm]
WIDTH
[mm]
HEIGHT
[mm]
CAPACITY
[lt]
Prima 12
12
1000
790
1200
9x6 lt and 3x10 lt
Prima 16
16
1180
790
1200
12x6 lt and 4x10 lt
Prima 18
18
1670
790
1200
6x6 lt and 6x10 lt and 6x15
Prima 24
24
1670
790
1200
18x6 lt and 6x10 lt
Prima 32
32
1970
790
1200
24x6 lt and 8x10 lt
Stainless steel Piston pumps: Do not alter the chemical-mechanical characteristics of the colorants (differently from gear pumps)
The pump can be easily replaced by Customer in 77" only
Do not need re-calibrations after replacement: plug and go!
Have reliable performance also with "difficult" colorants
Have much lower wear than gear pumps and do not alter colorant rheology.
Thanks to the complete recirculation, from the canister through the valve and back to the canister, the colorants are always homogenized
High effective stirrers (able to scrape the sides and the bottom of the canisters) avoid sedimentation
All the electric boards are protected (with a plastic sealed panel) from splashes of colorants
Excellent ergonomics : height of 1.200 mm, easy to refill and to check at a glance: re-filling is no more an uncomfortable activity
Easy access to the autocap for maintenance and nozzles check
Easy maintenance : all the side panels can be quickly removed (two screws only!) for smooth access to every part of the machine
In case of multiple purchases, the colorants parameters can be set on the first dispenser and then copied onto all following dispensers, prior to shipping
The software interface available for all Spectrophotometers.
Prima ET provides 1/768 fl. oz. colorant accuracy and 1g precision for base paints with weight tracking to assure a total quality warranty to your professional customers.
This dispenser provides for exceptional long lasting pump life and lowers wear when compared to traditional dispensing systems, due to its special stainless steel piston pumps for colorants and membrane pumps for bases.
Dromont does not use gear pumps in order to avoid heavy spare part costs and complicated maintenance operations and frequent recalibration. Ergonomy is essential when tinting into small and large pails at a very comfortable operating height of 300mm from floor level and when refilling the canisters at only 1100 mm height. Solid and rough construction with stainless steel external piping and agitated storage tanks grant automatic capping system with moisturizing device minimize drying when using both solvent and water based VOC free colorants. A unique emergency display provides messages, information on dispenser status, lifting shelf operations and an additional safety back-up for allowing dispensing operations in case of PC failure.
Colorant dispensing features
Simultaneous dispensing: all the colorants are dispensed at the same time
Stainless steel piston pump (120ml/stroke) easy to be replaced by non-expert operator
Canisters made of POM polymer material (*) – Stainless steel optional
Each canister has an independent motorized agitator
Stirring and re-circulation programmable cycles
Each circuit is fully recirculated through the valve back to the canister to avoid sedimentation
Automatic closure of the nozzle head with humidifying sponge to avoid drying-out
Minicomputer with front panel: it allows the use of the equipment also when the PC is not working
Flow rate (per circuit): 0.5 Lt./min. (**)
Accuracy: +/- 1% – min. 1/768 fl. oz.
Ergonomic: frontal protruding dispensing point and low refilling height
Electric can table, with safety photocell for automatic detection of the can
Side trays/roller conveyors for comfortable loading and unloading of the pails
Dispensing head max diameter: 40 mm
Electric central shelf, with safety photocell for automatic detection of the can
(*) please verify compatibility with POM (IUPITAL F25-03) material and your colorants
(**) depending on colorant rheology
Bases/converters dispensing features
Prima ET can be equipped with external tanks, in addition to the internal canisters.
It allows the dispensing of Bases and Colorants in one operation (no pre-filled cans) and avoids having a large inventory of pre-filled cans; just a few drums connected to the dispenser will allow the dispensing of the bases directly into the pails.
High productivity, flexibility and accuracy can be achieved by combining:
dispensing by weight from the external tanks for bases
dispensing by volume from the internal circuits for colorants.
The external module for the bases can be equipped with:
Stainless steel tanks of various capacities (25 l to 1000 l) and related lids and inspection grid with connections for the piping
Stainless steel piping for delivery and recirculation
Agitators to avoid sedimentation inside the storage tanks
Diaphragm pneumatic pumps
Dromont ½" valves for dispensing
Refilling of the storage tanks is carried out very easily using the same pump used for dispensing (no more manual refilling with physical efforts)
Sequential gravimetric dispensing with a scale
Max number of external circuits: 8
Dispensing head max. diameter: 65 mm
Point-of-Sale Software
& DromontApp
Dromont In-House Software Department consists of internal programming engineers working on updating our software platform to the latest innovations as well as integrating our machines into the customer's Enterprise Resource Planning (ERP) system. This department is capable of customizing the software interface to the customer's exact needs, testing the software prior to installation, and programming the software to communicate with the customer's systems.
Thanks to the new DromontApp it is also possible to remotely monitor in real time machine status and performances. It allows operators, service technicians and service companies to collect data and show messages for a predictive maintenance support; guiding customers to quickly identofy the origin of a downtime and immediately return in operation.
Data collected are mainly calibration data, counters, canisters colorants level, alarms history, configuration settings, dispensing and purges.