Dispensing Knowledge
from Factory to Point-of-Sale
DIY, Point-of-Sale
& Retail Tinting
The ultimate tinting machines for paint stores
Dromont has taken its factory dispensing experience and applied it for the retail markets, solving the problems commonly associated with today's machines. Dromont high quality machines provide the ability to dispense even very challenging colorants and bases; this was achieved by developing an innovative simultaneous piston pump dispensing system.
Our dispensers can be equipped with up to 32 circuits connected to both internal canisters or external tanks.
Perfecta range of retail dispensers have been designed to satisfy our customers' concerns regarding mistints, color contamination, cleaning operations and issues with VOC free colorants everyday. Accuracy and speed are at the cornerstones of the Perfecta range.
The technical solutions introduced with our patented airtight auto-cap eliminates colorants drying at the nozzle tips. This allows the use of VOC free colorants providing an environmentally responsible approach to in can tinting.
With Perfecta, we have taken another huge step forward, guaranteeing lower costs, greater ease of use and a high impact approach to the issue of environmental sustainability.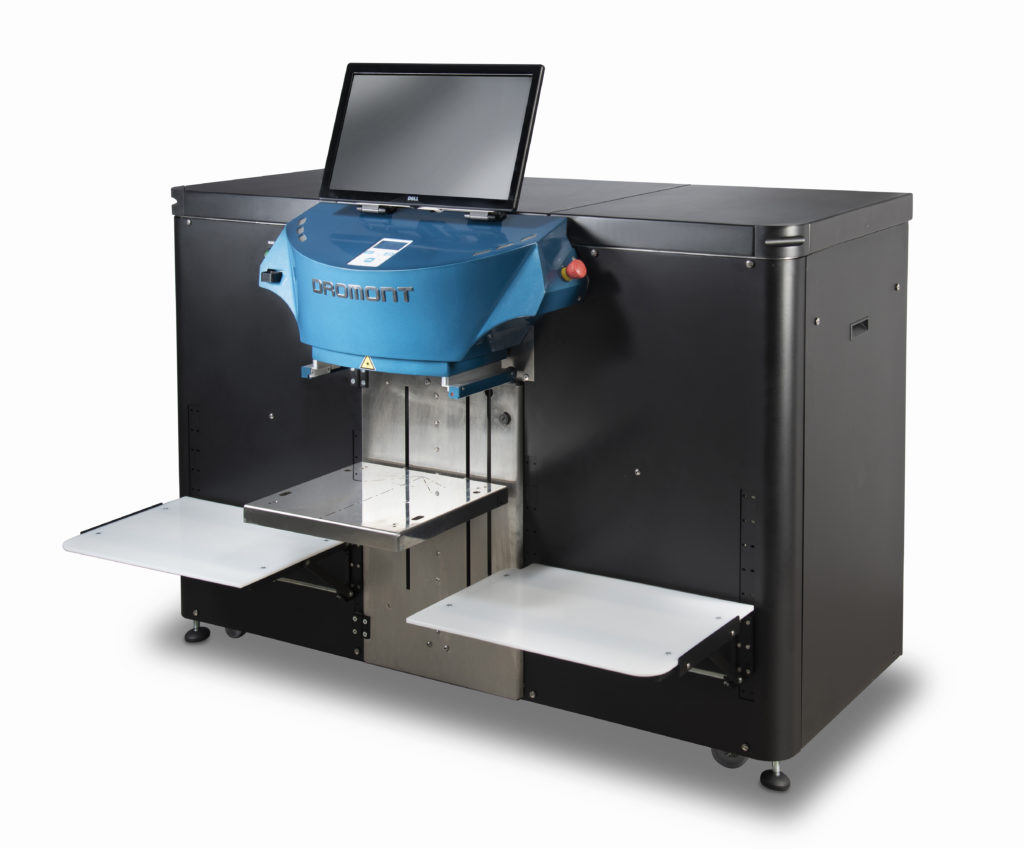 Factory, Laboratory
& in-Can Dispensing
Right-first-time in-Batch, in-Can and in-Lab Tinting
In today's complex environment, a company needs to profitably manufacture large and small batches as well as made-to-order custom colors all with short lead-times and high repeatability.
Dromont has been producing systems for factory and industrial applications since 1987 with thousands of systems installed around the world. The multiple stage, O-Ring free dispensing valve allows customers to achieve high accuracy and reliable dispensing very rapidly. The design of the heads and the movement of the valves ensure consistent and trouble-free functioning as well as efficient utilization of space. Dromont features the most robust and reliable piston dispensing system on the market.

e-Commerce
Automatic Lines
High-speed integrated solutions for online on-demand paint orders in cans or sample pots
Dromont e-Commerce Business Programs are dedicated filling and tinting strategies to receive orders in any size through an e-Commerce platform, linked to paint producers' own operating system, directly to an automatic make-to-order production process on a 24/7 cycle. They are the best solution to minimize inventory and maximize flexibility and profitability of e-Commerce and Professional orders.
e-Paint hubs are centralized and regional distribution e-commerce fulfillment centers for large volume professional and consumer online orders. 24/7 operations with up to 960 cans/shift. They are completed by an automatic warehouse for base paint and finished colored orders.
A fully automated sample line designed for professional and online markets offering all colors in sample pots in a few seconds. The line is based on a new in-line filling and tinting approach to dispense bases and colorants alternatively, eliminating the unpleasant effect of having dye in the corners of the lid while mixing.
Inlet Buffer
Motorized rotating buffer table
for empty samples
Labelling and Tinting
System for printing, applying self-adhesives
and dispensing bases and colorants
Mixing
In-line mixers with automatic fast
pick&place arm
Output Buffer
Outlet buffer conveyor
to collect finished samples
Qoncept Engineering
& Turnkey Projects
Implement factories with the lowest production cost and the highest quality by utilizing our industry leading technology
With over 20 years of experience, our engineers have developed a unique level of expertise with an integrated platform of solutions and building programs for the industry.
It all started with basic feasibility studies and soon developed into groundbreaking end-to-end efficiency and plant optimization tools known as Qoncept Engineering program.